---
---
---
I would recomend this website
96%
I would not recommend this website
4%
Total votes: 50
---
Hikvision DS-2CE16H1T-IT3ZE Bullet TurboHD camera 5MP, 2.8-12mm (90.4-28°) motorized VF lens, PoC
---
Hikvision DS-2CE16H1T-IT3ZE Bullet TurboHD camera 5MP, 2.8-12mm (90.4-28°) motorized VF lens, PoC
---
| | |
| --- | --- |
| SKU | DS-2CE16H1T-IT3ZE |
| Availability: | In Stock |
| Ready to ship in | 1-2 w. days |
We offer Special Pricing for Resellers, Installers and Regular Customers.
To obtain this account status, please fill out the request form below:
REGISTER
---
Bank transfer, VISA card, Mastercard credit card or PayPal.
3000+ Successful Worldwide Deliveries
Free shipping on all orders in EU ≥ 300€. We ship from Europe.
0% VAT ordering for EU companies (non EST) & Customers outside the EU
Fill VAT ID field with valid VAT number to automatically create a purchase order with 0% VAT.
Easy Returns
14 days for return for items in as new condition.
---
Hikvision DS-2CE16H1T-IT3ZE Bullet TurboHD camera 5MP, 2.8-12mm (90.4-28°) motorized VF lens, PoC
5 Megapixel high-performance CMOS
Analog HD output, up to 5MP resolution
2.8-12mm motorized vari-focal lens
True Day/Night
OSD menu, DNR, Smart IR
EXIR technology, up to 40m IR distance
IP67
PoC.at
Up the Coax(HIKVISION-C)
The DS-2CE16H1T-IT3Z by Hikvision is an all new 5 Megapixel HDTVI bullet camera with a varifocal 2.8mm-12mm lens. It benefits from all the usual top quality features you have come to expect from Hikvision and is equipped with EXIR technology for excellent night time images.
Hikvision, the world's leading supplier of innovative video surveillance products and solutions is further advancing surveillance camera technology by introducing PoC Power over Coaxial to its TVI cameras and DVRs.
This makes installing the cameras a lot simpler which is great news for installers. Power over Coaxial (PoC) basically means that power for the camera is supplied by the DVR via coaxial video cable (RG59 or similar), this removes the requirement for separate cables and power supplies which would otherwise be needed to power your cameras. For installers this means a much more time and cost efficient installation.
PoC can be used on cable runs up to 200 metres and is available in 4,8 and 16 channel DVRs (models ending /P), a full complement of TVI PoC cameras are also available (models ending E) which together offer a cost effective and time saving solution to your TVI installations.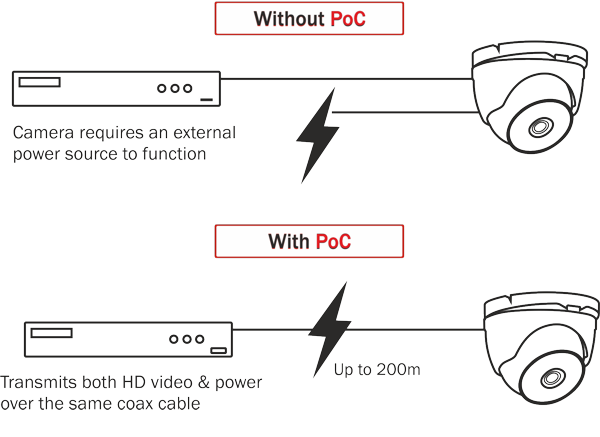 Image Sensor
5 MP CMOS image sensor
Electronic Shutter Speed
PAL: 1/25 s to 1/50, 000 s
NTSC: 1/30 s to 1/50, 000 s
Min. Illumination
Color: 0.01 Lux @ (F1.2, AGC ON), 0 Lux with IR
Video Output
1 HD analog output
Alarm in/out
N/A
Audio in/out
N/A
Max. IR LEDs Length
40m
Focal Length
2.8 to 12 mm motorized vari-focal lens
Angle of View H
90.4°to 28°
Memory Slot
N/A
Power Supply
12 VDC ±25%/PoC.at
Working Environment
-40°C~+60°C
Ingress Protection
IP67
Vandal Resistance
N/A
Download the product information
Manual
Datasheet
---
Frequently bought together
Our company was established in 2008 and is one of the leading CCTV cameras and equipment suppliers in Estonia and the Baltics. The most new models and technologies, the latest products from the most famous manufacturers of security equipment for video surveillance systems, and security systems can be found in the equipment catalog on our website.
Apply promo code
Enter a promo code you know and prices of coresponding goods will be automatically reduced
Sign up for newsletter
Keep up to date with new products and special offers