ERIPAKKUMINE:
SPRING2019
Kampaania kehtib ainult laosolevale kaubale. Kampaania kestab 2019. aasta mai lõpuni või kuni kaupa laos jätkub!.
Hikvision DS-2CE16H1T-IT5E Bullet TurboHD camera 5MP, 3.6mm fixed lens, EXIR, PoC
---
Hikvision DS-2CE16H1T-IT5E Bullet TurboHD camera 5MP, 3.6mm fixed lens, EXIR, PoC
---
| | |
| --- | --- |
| Tootekood | DS-2CE16H1T-IT5E |
| Laoseis | laos / partneri laoseis |
| Tarneaeg | 1-2 t.p. |
---
Me pakume spetsiaalseid hindu edasimüüjatele, paigaldajatele ja püsiklientidele.
Sellise konto staatuse saamiseks palun täita allpool asuv taotluse vorm: REGISTREERU

---
Maksmine
Maksa arvega, VISA credit card, Mastercard credit card
Tasuta transport!
Eesti piires on alates 300EUR tellimuste käibemaksuta summast!
Püsikliendi Soodustused
Videovalve - Valveseadmete müük
14 Päeva Tagastus
Tagastada saab vaid mis on originaalpakendis ning kasutamata kaupa
---
Hikvision DS-2CE16H1T-IT5E Bullet TurboHD camera 5MP, 3.6mm (72.4°) fixed lens, PoC, IR LED 80m for excellent night time viewing.
5 Megapixel high-performance CMOS
Analog HD output, up to 5MP resolution
True Day/Night
OSD menu, DNR, Smart IR
EXIR technology, up to 80m IR distance
IP67
poC.af
Up the Coax(HIKVISION-C)
Hikvision, the world's leading supplier of innovative video surveillance products and solutions is further advancing surveillance camera technology by introducing PoC Power over Coaxial to its TVI cameras and DVRs.
This makes installing the cameras a lot simpler which is great news for installers. Power over Coaxial (PoC) basically means that power for the camera is supplied by the DVR via coaxial video cable (RG59 or similar), this removes the requirement for separate cables and power supplies which would otherwise be needed to power your cameras. For installers this means a much more time and cost efficient installation.
PoC can be used on cable runs up to 200 metres and is available in 4,8 and 16 channel DVRs (models ending /P), a full complement of TVI PoC cameras are also available (models ending E) which together offer a cost effective and time saving solution to your TVI installations.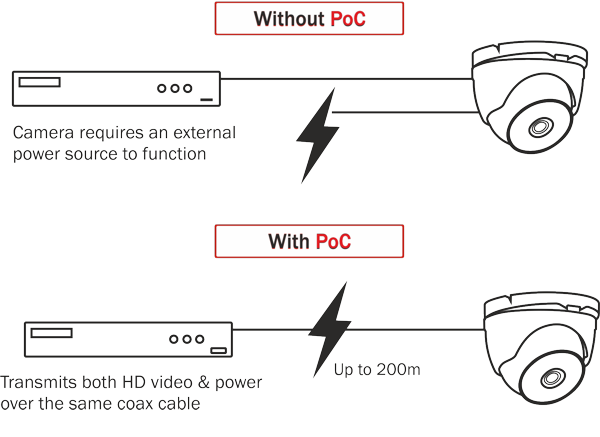 Image Sensor
5 MP CMOS image sensor
Electronic Shutter Speed
PAL: 1/25 s to 1/50, 000 s
NTSC: 1/30 s to 1/50, 000 s
Min. Illumination
Color: 0.01 Lux @ (F1.2, AGC ON), 0 Lux with IR
Video Output
1 HD analog output
Alarm in/out
N/A
Audio in/out
N/A
Max. IR LEDs Length
80m
Focal Length
3.6mm fixed lens
Angle of View H
72.4°
Memory Slot
N/A
Power Supply
12 VDC ±25%/PoC.at
Working Environment
-40°C~+60°C
Ingress Protection
IP67
Vandal Resistance
N/A
Download the product information
Manual
Datasheet
---
---
Uued mudelid tootevalikus
Võite olla huvitatud
Expresstime OÜ koondab endas turvaala professionaale, kellel on mitmeaastane kogemus videovalve- ja turvasüsteemide müügi, projekteerimise ja paigalduse alal. Meie kodulehel paiknevast tootekataloogist leiate maailma kõige tuntumate tootjate uusimaid videovalve seadmeid ja tehnoloogiaid.
Kasuta promokoodi
Sisestage promokoodi ja hinnad vastavate kaupade vähenevad automaatselt.
Liitu uudiskirjaga
Hoia end kursis uute toodete ja eripakkumistega.