Hikvision DS-2CE56H1T-VPIT3ZE Dome TurboHD camera 5MP, 2.8-12mm motorized lens, EXIR, PoC
---
Hikvision DS-2CE56H1T-VPIT3ZE Dome TurboHD camera 5MP, 2.8-12mm motorized lens, EXIR, PoC
---
| | |
| --- | --- |
| Код товара | DS-2CE56H1T-VPIT3ZE |
| Наличие | есть на складе |
| Отправка в течении | 1-2 раб.дн. |
We offer special pricing for Resellers, Installers and Contractors. 
To obtain this account status, please fill out the request form below.:
REGISTER
---
Продукция отправляется со склада в Таллинне (Эстония) во все страны Европейского Союза и по всему миру в течение 1-2 рабочих дней. Время доставки по Европе обычно 2-7 рабочих дней.
Налогообязанные фирмы Европейского Союза освобождены от уплаты эстонского НДС.
В течение 14 дней можно вернуть товар, если он не был использован и находится в идеальном состоянии.
---
Hikvision DS-2CE56H1T-VPIT3ZE Anti-Vandal Dome TurboHD 5MP, 2.8-12mm (90.4-28°) motorized, PoC
5 Megapixel high-performance CMOS
Analog HD output, up to 5MP resolution
2.8-12mm motorized vari-focal lens
True Day/Night
OSD menu, DNR, Smart IR
EXIR 2.0 technology, up to 40m IR distance
IP67,IK10
PoC.at
Up the Coax(HIKVISION-C)
Hikvision, the world's leading supplier of innovative video surveillance products and solutions is further advancing surveillance camera technology by introducing PoC Power over Coaxial to its TVI cameras and DVRs.

This makes installing the cameras a lot simpler which is great news for installers. Power over Coaxial (PoC) basically means that power for the camera is supplied by the DVR via coaxial video cable (RG59 or similar), this removes the requirement for separate cables and power supplies which would otherwise be needed to power your cameras. For installers this means a much more time and cost efficient installation.

PoC can be used on cable runs up to 200 metres and is available in 4,8 and 16 channel DVRs (models ending /P), a full complement of TVI PoC cameras are also available (models ending E) which together offer a cost effective and time saving solution to your TVI installations.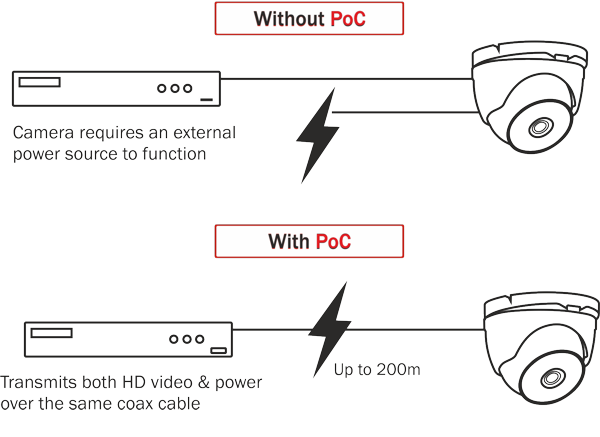 | | |
| --- | --- |
| Image Sensor | 5 MP CMOS image sensor |
| Electronic Shutter Speed | 1/25(1/30) s to 1/50,000 s |
| Min. Illumination | Color: 0.01 Lux @ (F1.2, AGC ON), 0 Lux with IR |
| Video Output | 1 HD analog output |
| Alarm in/out | N/A |
| Audio in/out | N/A |
| Max. IR LEDs Length | 40m |
| Focal Length | 2.8-12mm |
| Angle of View H | 90.4-28° |
| Memory Slot | N/A |
| Power Supply | 12 VDC ±25%/PoC.at |
| Working Environment | -40°C~+60°C |
| Ingress Protection | IP67 |
| Vandal Resistance | IK10 |
Download the product information
Manual
Datasheet
---
---
Новые товары
---
Вас также может заинтересовать
Наша компания - это команда профессионалов в области охранного видеонаблюдения, которая уже много лет успешно работает в сфере поставок оборудования, проектирования, а также монтажа систем видеонаблюдения и охранных систем.
Применить промокод
Введите известный Вам промокод и цены будут автоматически снижены
Подписаться на новости
Будьте в курсе новинок и специальных предложений